Our Services
'Just as you did it to one of the least of these who are members of my family, you did it to me.' Matthew 25:40
Works of Mercy

Services include
advocacy
housing and tenancy concerns
responding to immediate need
supporting family/whanau and children
assistance with filling out forms and referee declarations
home visits and prison visits
information and referral
Encouraging community led action by
raising awareness of local issues and concerns
encouraging neighbourhood and community participation
supporting local initiatives
participating in process to influence those who exercise power and make decisions affecting the lives of people
Seasons for Growth Programme
We facilitate the Seasons for Growth adult programme which works with people to help them understand and express their experiences of change. As trained companions we facilitate both the seminar and the small group programmes.
The Seminar Programme 'Understanding Change, Loss and Grief' is designed for use in a wide variety of contexts where groups and individuals are seeking to deepen their general understanding of the nature and impact of change, loss and grief on their lives or in their workplace.
The Small Group Programme 'Exploring the Seasons of Grief' is designed to provide an in-depth understanding of the impact of loss and grief on an individual's well-being. It is an education programme which explores the effects of change, loss and grief. It does not provide counselling.
The Seasons for Growth® programme was first developed in 1996 with funding provided by the Mary McKillop Foundation. The Australian owned not-for-profit organisation, Good Grief Ltd, is responsible for the development of the programme.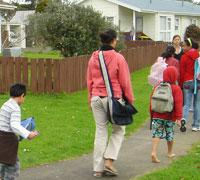 | | |
| --- | --- |
|    AUTUMN Embracing the Change |    WINTER Honouring my Story |
|    SPRING Living with Hope |    SUMMER Empowering through change |
Advocating for Social Justice
We recognise that there are often social, economic and political structures that render people in need and make it more difficult for them to enjoy a just share in the goods of the earth. Where we can we speak up and contribute to processes to influence the decision makers to safeguard people's rights and the common good.
To open a submission, simply click its link below (all documents are PDF files):